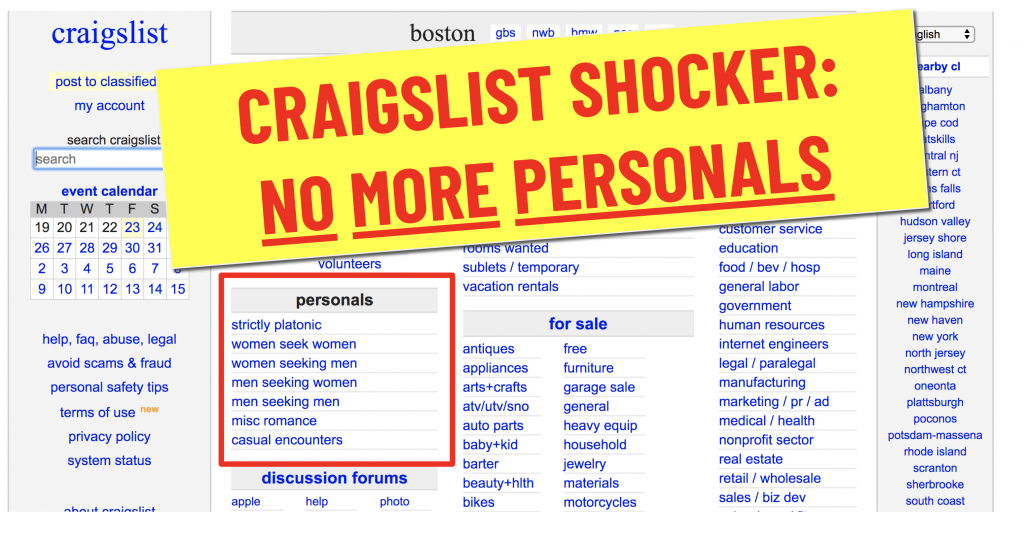 If you have been an active user on Craigslist for a long time, then you probably remember when they had a personals ads section on their classified ads website. This was a section where users could post up and respond to personal ads of local people. The three main categories of this personal section were casual encounters, strictly platonic, and dating & romance. It could then be narrowed down further to accommodate sexual orientation, such as gay, straight, and lesbian.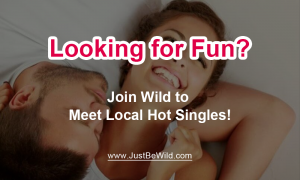 All users had complete anonymity and they never had to pay anything in the personals ads section. In fact, Craigslist personals were often considered a great "dating/hookup platform" because it was 100% free and had a lot of popularity.  Users could even post up photos of themselves in their personals ads too. Everything was going great for most people who used the personals section. People of the LGBTQ community reportedly had a lot of successful meetups.
Unfortunately, the personals ads sections on Craigslist were removed from the website in March 2018. This was in wake of the United States Senate passing the "Allow States and Victims to Fight Online Sex Trafficking Act of 2017" legislation. This bill basically states that if a third-party person or user posts illegal content on a website, then that website and its owners are legally liable for it.
Since prostitutes and sex workers were advertising their illegal services in the personals section, Craigslist would have been legally liable for this if they had kept the personals section up after the legislation passed. So, they took it down to avoid criminal charges. This certainly disappointed a lot of users who had amazing results from using the Craigslist personal ads.  Some of them were forced to go to hookup dating websites and pay membership fees to find people. As for others, they looked for some new Craigslist personals alternative.
Which websites are the best alternatives to Craigslist personals ads? That is the question most people have now who previously used Craigslist personals to find hookups and dates.
Below are the top 5 classifieds websites which can be a new alternative to Craigslist personals ads section.
Doublelist advertises itself to be specifically for "curious, straight, and gay" people that want to connect with someone in their local area. This website does not have any other sections or categories like Craigslist does. Doublelist is exclusively a personal website devoted to people who want to meet others for dating and forming relationships. They state on the bottom of their homepage that "no sex work allowed." However, they aren't about to trust people to adhere to that policy. That is why they screen ad posts very carefully to ensure there is no sexually explicit language or content in them. If their system detects unwanted content, the post will get rejected before it even gets published. However, doulbelist is still ranked the #1 alternative to craigslist personals by the people who are seeking hookups.
ClassifiedAds.com has a very simple design that is easy to navigate. The various categories and subcategories are listed nicely and have their own picture icons. The personal ads section has subcategories like "Men Seeking Women, "Women Seeking Men," "Men Seeking Men,""Women Seeking Women," and "Casual Dating." This should remind you a lot of the Craigslist Personals. Users can post up pictures of themselves too. If you want to contact someone, the reply form is conveniently available right on the same page as the post. You just type in your name, email, message, and then click Reply.
Hoobly.com is a straightforward classified ads website. The categories and subcategories are listed on the homepage like they are on any other classified's website. However, when you click on an ad listing, there is a little more organization in the post. The left-hand side has a picture and message while the right-hand side has a table with specific details about the post. It lists the location, category, date posted, and date updated. Unfortunately, there doesn't seem to be any personal ads categories on Hoobly.
Bedpage.com describes itself as an alternative to both Backpage and Craigslist Personals. The homepage lists various countries, states, and cities. Choose the city you live near and then the categories will come up on the screen. The personals category is called "Dating" on this website. You will find subcategories like "Women > Men," "Men > Women," etc. Before you can view the posts, you must agree that you're 21+ years of age. Most of the posts have sexually provocative pictures, which is a huge plus if you're looking for hookups and casual encounters.
Oodle.com is a major competitor of Craigslist. One unique thing about Oodle is that it doesn't just display posts made to its own website. It also displays posts made on other classified ads websites too. Items in the for-sale category could show Facebook Marketplace or eBay listings. Posts in the personal ads category might show ads from Advertigo.net. This does give you a lot more options because it lets you capture various personal ads from all over the internet. Oodle has a mobile app too, which most other classified ads websites don't have.
Above are the top 5 classified websites that can be an alternative to Craigslist personals after the craigslist personal ads section down. But if you want to find some personal ads app, you can check the 8 hookup apps to get laid in 2021.
You May Like: