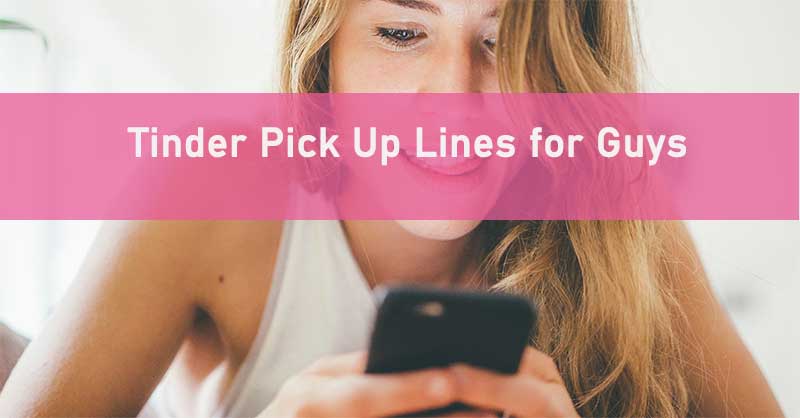 In this day and age where technology is so advanced and social media is everywhere, a lot of people have turned to the internet to help them find a relationship. It can be hard finding your person in the world, so dating apps were made to help people do just that.
One of the most popular dating apps is known as Tinder. Tinder is an app where you can go on and swipe for those you are interested in. If they swiped right on you as well, you guys will get matched up, and you can message them.
As a guy, it is really important that you make that good first impression. You don't want to message a girl you matched with and scare her away immediately. This can be a daunting task, so we have compiled a list of the top fifteen pick-up lines for males on Tinder. These Tinder pick-up lines are guaranteed to get you a date!
1. "I had to go through so many left swipes to find you."
When in doubt, stick with the classic Tinder pick up line. Knowing that you swiped left on so many other women will give her the confidence that she was the one you were looking for. You can't go wrong!
2. "Does this mean I need to change my Facebook relationship status?"
Anyone who was around in the age of Facebook knows how important the Facebook relationship status was. If it wasn't Facebook official, was the relationship even real?
3. "Wow, I think this must be love at first swipe."
Taking the old love at first sight and switching it to fit Tinder is bound to get a laugh. After all, you both must've seen something to swipe right on them, maybe it was love at first swipe!
4. "My parents love you already, they can't wait to meet you!"
A good sense of humor is bound to get a response. You decided to skip all of the first steps (including meeting) and jump straight to meeting the parents. First comes swiping, then comes… meeting the parents?
5. "So, what do you think about a (insert color here) tuxedo for the wedding?"
If you want to go bold, talk about marriage. Forget all of the traditional datings. Who needs that when you can jump straight to the altar?
6. "My normal type is an 8, but I guess I could settle for a 10."
Make her feel confident. Women love to be complimented and calling them a 10 just might land you that first date, maybe even the first 10 dates if you're lucky.
7. "Help! I forgot my password, and to reset it, it says I need (insert name here)'s number!"
Here is a smooth and slick way to get your girl's number. Instead of asking straight out, make a joke out of it. A good sense of humor always goes a long way.
8. "Wow, I had a good pick up line planned, but your beauty made me forget it."
Smooooooth. When you can't think of a pick-up line, use that as a pick-up line. Don't skip a beat, just act smooth, make it slick, and you may just get a response.
9. "What is a handsome, single guy like me doing without your number?"
Calling attention to your own good looks may be a risk, but it might just be a risk that is worth taking. If a girl can't accept your confidence, maybe she doesn't deserve you at all.
10. "Be unique. Say yes."
There are so many potentials of rejection on dating apps that it may be fun and flirty to make it into a joke. It is a good way to break the ice and get the girl's attention by calling out all of the other people who don't respond.
11. "Are you a vegan? Because it would be my honor to meat you."
You sure are a punny guy. A good pun can get any girl's attention, and wouldn't it be funny if she actually was a vegan?
12. "Even if you got all of the famous painters together, no artwork could be as beautiful as you."
Be smooth, compliment her, make her feel confident, and you are guaranteed to get her attention. Tell her that she is beautiful, and maybe, just maybe, she will give you the right away for a date.
13. "Are you a fan of Mexican food? Because I would love to hold you in my arms so that you could be my bae-rrito."
HA! The puns. How could a bae-ritto not get a girl's attention? If this doesn't get a response, you deserve better anyway. No pick-up line is as punny and as smooth as this. This is as spicy as it gets. (Ha, get it? Because its Mexican food?)
14. "So you must be the gold that is found at the end of a rainbow."
The famous 'pot of gold' is bound to grab the attention of anyone. The gold that many have searched for and none have found. You were just fortunate enough to have stumbled upon it… on Tinder.
15. "I'm at the grocery store right now, what do you want for breakfast?"
Confidence is key. With confidence like this, who could turn you down? After all, you are offering to make her breakfast, and food is the way to the heart, right?
Overall
In the end, if none of these pick-up lines work, keep searching because that obviously wasn't the woman for you. These Tinder pick-up lines are bound to get you a date with an amazing woman. Have confidence, be smooth, and grab her attention. Those are the key ways to get a response, and that is exactly what these pick-up lines achieve. Get that first date outfit ready because you are going to be going on one really soon. Go out there and get that girl!