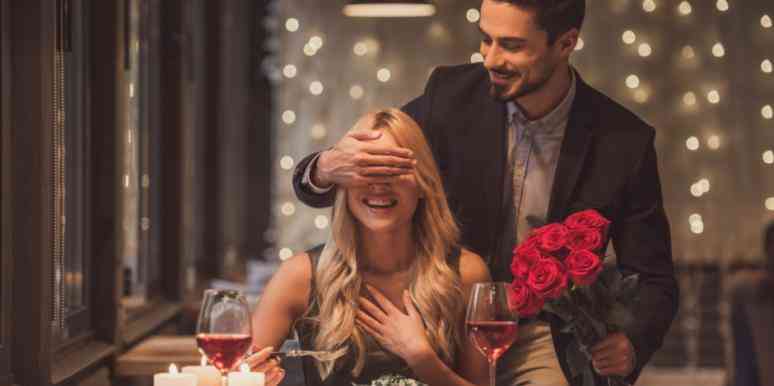 Even for a hookup or a one-night stand, it is always a welcome gesture and pleasant surprise to offer your partner a small gift to start the day or evening off right.  A small, thoughtful gift can be the perfect way to set the tone for a successful date or tell your hookup that even though this is for tonight only, it is still meaningful to you.
Finding a small, exquisite but not too expensive gift for someone you don't know well can be a daunting challenge.  However, it does not have to be and can be a fun experience.  Think of it as a part of the foreplay in preparation for an enjoyable night of hot sex.  Following are some gifts ideas provided by experts that will tell your hookup that the night is special to you.
Wine – white or red is the tough choice here. Chardonnay or Pinot Grigio are good selections for white wines; Merlot or Pino Noir for reds.  Pick a price point at under $30 and then select a wine from a fancy-sounding winery.  You cannot go wrong with French wine or a wine from Northern California, Australian wines are also gaining popularity.
Jewelry – we are not talking diamonds or a fancy gold necklace. We are talking about some sort of necklace, bracelet or charm depending on what your hookup likes.  If you have no clue regarding jewelry it's probably best to move on to something else.
Chocolates – it's hard to go wrong with a box of chocolates. Pick out something fancy looking with a lot of variety inside.
A single long-stemmed rose – this is a simple yet beautiful gift that she is sure to love. Think The Bachelor and present the rose to your date when you first meet.
Bouquet of flowers or live plant – if you know what flowers your date likes, this is even more special. But flowers or a live ornamental plant are always sure to please.
Desert or snack – pick up something sweet for your sweet and plan to enjoy it together at an appropriate moment during your time together.
Perfume or cologne – this is a thoughtful gift, especially if you know that your date actually uses perfume or cologne, but sometimes picking the scent can be a challenge. Select something with a light, pleasing fragrance, not too overpowering or too floral.
Personalized Gift – if you know a little something about your date or have gotten a piece of personal information, think of a gift that fits this theme. For example, if your hookup is an animal lover, then a cute bear glass crystal might be just the gift.  If they are into healing crystals, then a small bag of unpolished semi-precious stones could be perfect.
While offering a gift is certainly not a requirement for a hookup, it is certain to be appreciated and remembered.  Don't turn to select the gift into a difficult chore, have fun with it and be playful.  Your partner will appreciate the effort even if they are allergic to the lilies you just gave her.
YOU MAY LIKE: 10 Hookup Tips For Men