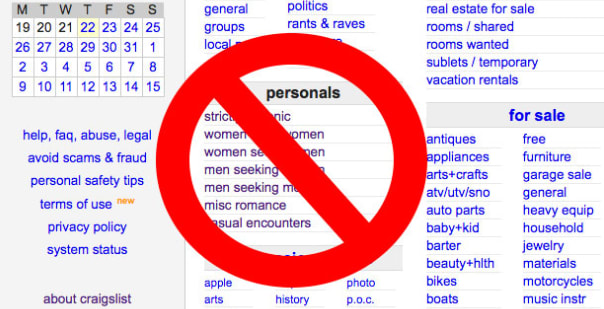 When Craigslist first went online in 1995,  the Craigslist Personals Ads section was created. This was a section where people could post up requests to meet other people for dating, casual sex encounters, and so on. Traditionally, personals used to exist in printed newspapers, but they weren't as provocative or erotic as what could be found on Craigslist. Not only were people open to just about any kind of hookup or encounter, they would also upload pictures of themselves. Sometimes they would even be naked in the pictures too. There were no limits.
A lot of people who remember the personals section on Craigslist will tell you stories about how it helped them create an active sex life for themselves. It was easy too because users did not have to register for an account or pay any membership fees like on dating sites. Craigslist would keep things totally free and anonymous for users who wanted a casual hookup. This brought both excitement and risk to the table. After all, there was no way to know if the person that you were meeting was legitimate or not. Remember the Craigslist Killer, Philip Markoff? He used to meet girls in their hotel room and then rob them. One girl was even murdered.
By 2010, Craigslist had become a website used for sex trafficking. There was pressure put on Craigslist to remove their Adult Services section, which they eventually did. But the possibility for sexual encounters was still possible because of the other categories in the personals section. People who wanted to sell sex or look for sex would make discrete posts in the Casual Encounters category. This became the new category for sex trafficking for almost the next 8 years.
In March of 2018, the United States Congress passed legislation called HR 1865, better known as "Fight Online Sex Trafficking Act." This new law states that the owners of websites with online personal ads will be held civilly and criminally liable if any of its users engage in unlawful acts with the personals. This legislation was directed more at Craigslist and it was the government's attempt at stopping sex trafficking online. Once the bill was passed, Craigslist immediately took down their personals section.
Now people who want to have casual encounters and sexual hookups will need to use apps. Most of these apps require you to register for an account and verify your identity for safety reasons. Some people miss the freedom of anonymous hookups but with the overwhelming amount of danger out there, perhaps getting rid of the personals section is for the best.
MUST READ: 
Where Can I Find Casual Encounters, Like in Craigslist Personals?