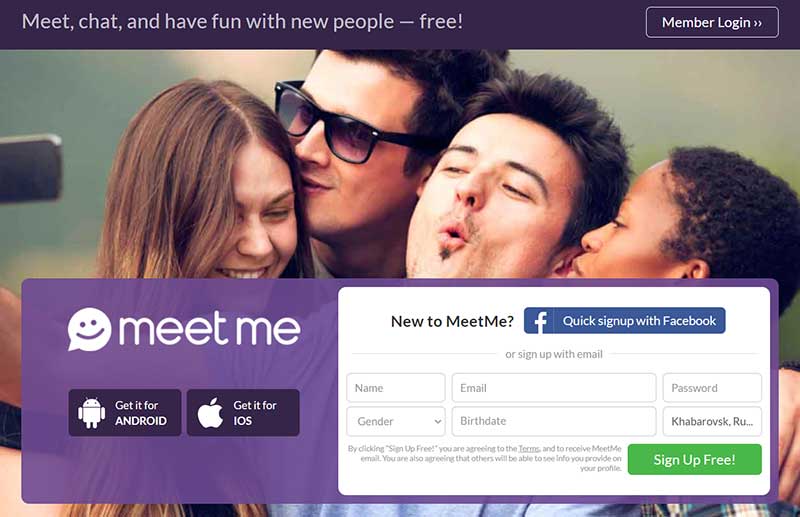 In an increasingly digital world, finding ways to connect with people online is even more popular. Social media has made this type of connection more common, but many people still wish they had a way to connect with their online friends face-to-face. MeetMe works to bring online friends together by matching users with others nearby, creating many opportunities for friendship, romance, and casual meetings. But do the safety risks outweigh the potential rewards? We'll break down the steps to MeetMe and discuss its good and bad aspects before we come to our final decision.
The Process
MeetMe users begin by creating a free profile. Uploading personal information allows users to customize their pages, which in turn helps people find other profiles that match their interests more closely. The focus is on creating new relationships with strangers, unlike typical social media profiles that connect existing friendships. Once your profile is set up, you can begin making connections with users and filter by age, location, gender, and sexual preference. For 6.99 USD a month, users can sign up for MeetMe+, the premium profile that allows you to remove ads, browse profiles anonymously, and further customize your profile and further filter the results on your page. Additional filters include body type, ethnicity, and more, making the membership useful for those seeking specific profile interests in others.
The Perks
Members can earn in-app credits called "MeetMe Credits", which lets users build their profile and get more views. The credits can be applied to in-app dating games that randomly pair users together to start a conversation, giving users a leg up as they try to make connections. There's also a streaming service connected to each profile where people can send virtual gifts in the form of credits or diamonds to other users. Purchasing credits is very affordable, at roughly 0.01 USD per credit, and these credits add up quickly, allowing popular MeetMe streamers to cash out their diamonds and credits and receive real money in their bank accounts every month.
The Pros
The dating games built into the app are the number one thing that sets MeetMe apart. Live-streamed dating games are a fun and original addition to the dating world. Games like Secret Admirer force users to guess who their friends and interesting profiles are based on clues about each profile. Other games randomly pair users together who otherwise may not have been matched, creating the potential for new and refreshing partnerships. One new game that's excited many users is the next date. Designed to work in tandem with sister online platform Skout, NextDate lets users of MeetMe and Skout take on the role of a contestant in a speed dating show. The user playing gets to interact with a number of different profiles while being watched by a live-streamed audience. From there, the user selects their perfect matches, and their first video match is live-streamed for audience members and other contestants to watch. Audience members can also participate by sending in rankings on the "Love-O-Meter" for different contestants and add comments to support or vote on specific matches. The game also adds hundreds of prompts for users designed to help initiate conversation and work through awkward icebreakers in order to start a true conversation.  95% of MeetMe's surveyed users said they'd be willing to meet in real life with people they met through live-streamed dating games, and this technological advance is unlike anything else other major dating apps are offering.
The Cons
As one editor wrote, "Overall, MeetMe is more like a social media platform than the dating service, with its heavy focus on group discussions and social interaction. While the site may be a good place to mess around, have fun and talk to other people online, the anonymity and lack of security will make it difficult for people to find someone real who is interested in a serious relationship." MeetMe also relies on a social-media based age requirement. The minimum age for users to be able to sign up and create a user profile is just 13. More and more minors have begun signing up for the site, and their parents are having major concerns about the safety of the platform. This concern is understandable; the platform, besides being a potential haven for people taking advantage of children, doesn't maintain standardized user records. It's hard to pin down people who are sexting, stalking, or harassing users, and there's no good way to report misconduct from other profiles. Users have reported constant streams of spam, attempted virus hacks, and harassment in addition to a lack of technical support in curbing these kinds of user violations. Some MeetMe users have had to delete multiple accounts on different dating sites altogether because of people who tracked them from MeetMe into other areas of the digital world.
The Final Verdict
At the end of the day, MeetMe's negatives seem to outweigh its positives.  The lack of control over the platform and its messaging capabilities are major red flags, and no amount of positive conversations or honest communication between users can make up for the potential misuse that stems from these issues. MeetMe's positive features, like its free profiles, are easily replicated and found in many other, safer dating sites like Tinder or Hinge. Even MeetMe's new dating games are becoming more and more common on other sites, meaning that you can achieve all of MeetMe's perks on a safer and more controlled site. The influx of minors and the shift from romantic to predatory connections is even more concerning. People looking for friendship and love are better off looking somewhere else, which is why we recommend that people stay away from MeetMe.